Halloween Spooky Fun Thematic Unit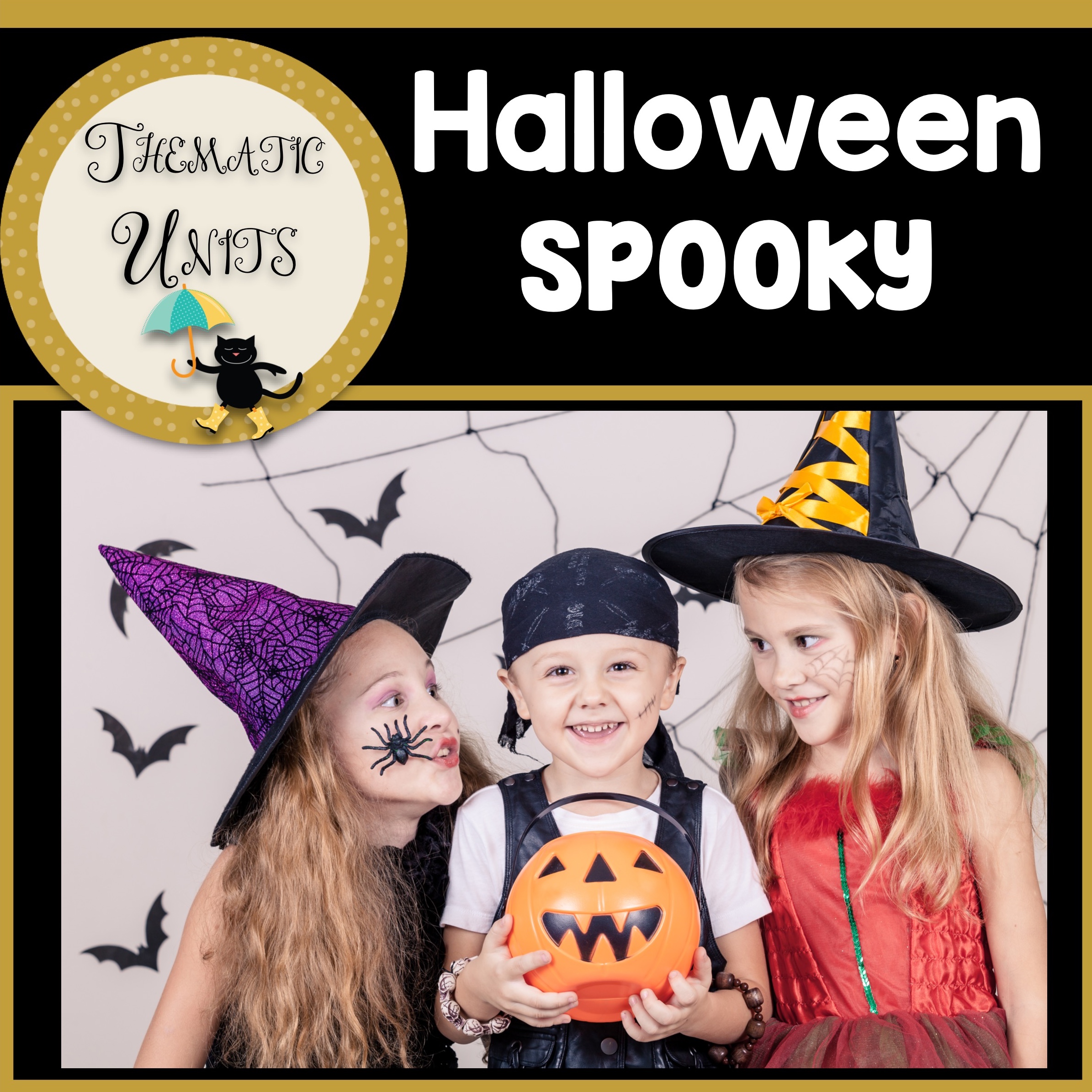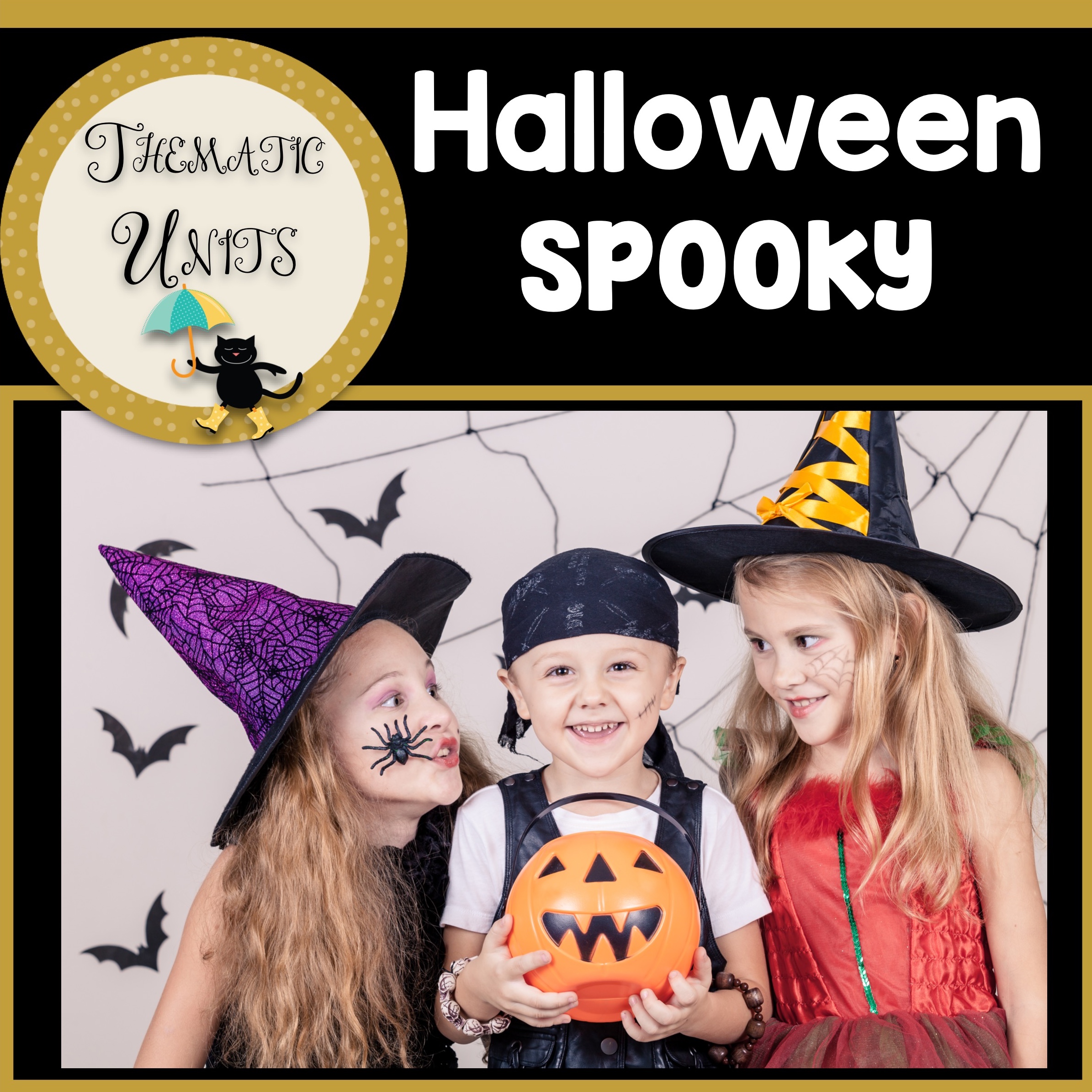 Halloween Spooky Fun Thematic Unit
Also available at Teachers Pay Teachers!
his NEWLY UPDATED SPOOKY Halloween unit is divided into areas of literature/media, music, art, literacy, math and science activities, creative writing, word wall, and guided reading. The activities are clearly written, easy to use, and need limited amounts of preparation.
Bring some Spooky Fun into your classroom or home!
Unit Includes the Following:
Literacy Activities:
Pumpkin Smasher: Identifying Initial Sound
Mystery Letter: Identifying letters
Pumpkin Bingo: Identifying Letters
Trick or Treat: Using Onset/rime.
Independent Activities
Ghostwriter: Writing Uppercase Letters
Fall Into the ABC's: Tracing & Writing Uppercase Letters
Halloween Sounds: Matching Sounds
Math Activities:
Monster Math-Mash : Identifying More or Less
Candy Count: Building Equivalent Sets of Numbers
Missing Pumpkins: Ordering Numbers
Candy Match: Matching Quantity to Number
Independent Activities
Halloween Buddies: Number Recognition
The Great Pumpkin: Matching Numbers & Quantity
Writing Prompts/Word Wall
My Costume
Halloween
Halloween Word Wall Words
Guided Reading Books
Trick or Treat
Class Made Books
Trick or Treat
Science
Witch Stew: Making Conclusions Based on Observations and Experiences
Monster Slime: Following Directions to Complete an Experiment
Art Projects
Pumpkin,Pumpkin Puppet
Construct a Jack
Orange Ghost
Triangle Witch
Pumpkin Lantern
Songs
Pumpkin-Pumpkin
The Orange Ghost
Ten Little Ghosts
The Old Witch
There's No Such Thing as a Witch
Halloween Is All Around
Haunting: A Free Alphabet Game
Halloween Math and Reading Games
Unit Includes the Following:

Literacy Activities:
Pumpkin Smasher: Identifying Initial Sound
Mystery Letter: Identifying letters
Pumpkin Bingo: Identifying Letters
Trick or Treat: Using Onset/rime.

Independent Activities:
Ghostwriter: Writing Uppercase Letters
Fall Into the ABC's: Tracing & Writing Uppercase Letters
Halloween Sounds: Matching Sounds

Math Activities:
Monster Math-Mash : Identifying More or Less
Candy Count: Building Equivalent Sets of Numbers
Missing Pumpkins: Ordering Numbers
Candy Match: Matching Quantity to Number

Independent Activities:
Halloween Buddies: Number Recognition
The Great Pumpkin: Matching Numbers & Quantity

Writing Prompts/Word Wall:
My Costume
Halloween
Halloween Word Wall Words

Guided Reading Books:
Trick or Treat

Class Made Books:
Trick or Treat

Science:
Witch Stew: Making Conclusions Based on Observations and Experiences
Monster Slime: Following Directions to Complete an Experiment

Art Projects:
Pumpkin Puppet
Construct a Jack
Orange Ghost
Triangle Witch
Pumpkin Lantern

Songs:
Pumpkin-Pumpkin
The Orange Ghost
Ten Little Ghosts
The Old Witch
There's No Such Thing as a Witch
Halloween Is All Around
Total Pages: 106